Lahore (Web Desk) – You will be pleased to learn that there is a majority of people who find their jobs boring. A study was conducted by Emolument which aimed at finding the most boring jobs ever.
About 1300 professionals from diverse fields were interviewed about the interest level they have every day while doing their jobs. They were asked how often and frequent they get bored at work. Surprisingly, 8 out of every 10 law professionals admitted getting bored at job.
Not to mention that the survey data included junior employees like clerks and receptionists to senior executives like CEOs and CFOs.
People who were found least bored in their professional life were those belonging to the field of research and development which is interesting because this research on people with boring jobs infers that people skilled in research are least bored in office, strange isn't it?
Well, here are the world's most boring jobs according to the findings of the study: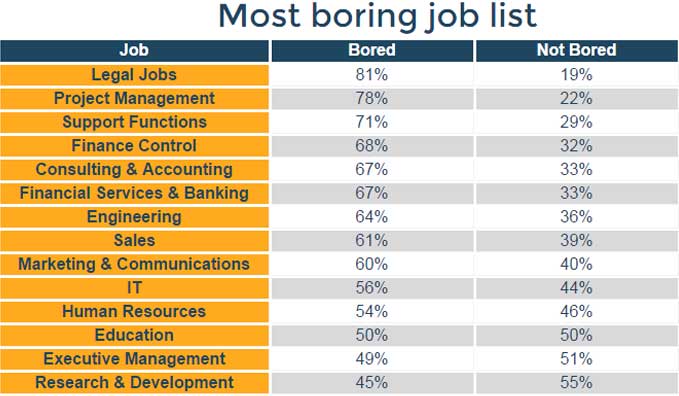 The data shows that people working in management, accounting, banking, engineering, sales, marketing, IT, HR, teaching and education find themselves routinely bored at work. The research concluded that there is not much difference in the level of boredom at work between entry level employees and CEOs.
It must be noted here that factors like stress, anxiety, pressure, work intensity and feeling of uselessness in employees were taken into account for the study.
Moreover, the most boring country to work in called the UAE. Other boring countries include Italy, Singapore, USA, Ireland, Hong Kong, UK, France and others. Here's the complete list: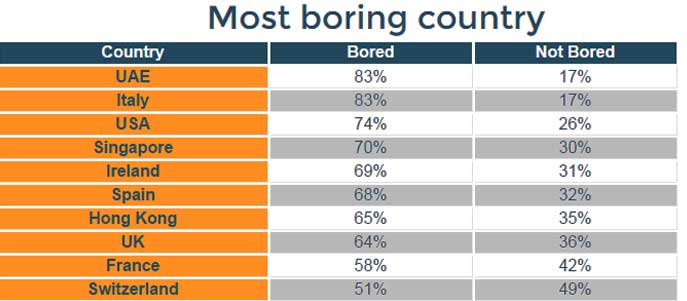 Courtesy Via: Dunyanewstv